We've sort of been "in the weeds" for the past few years with such young children so close in age. In fact, going out with the kids in tow has been one of those things that I really just dread. The boys are now closing in on 5 and 3 1/2 years old, and are getting slightly better at behaving while we are out and about. At six months old, Baby Girl is still so easy going and portable I confess I sometimes double check that I did put the car seat in the car!
But… we're not out of those woods yet. Anyone who has driven from Philadelphia to a Jersey shore point knows that Friday afternoons and holiday weekends such as Memorial Day are traffic nightmares. Even our "back roads" route is now overly congested. That 2 hour drive to get to my grandmother's beach house can easily become a 3+ hour crawling-at-five-mph drive. Not a fun time with three children under 5 in the car! I'll save our trips to the shore for mid-week getaways to avoid the traffic and the crowds.
So that begs the question, what to do this Memorial Day weekend? How can we honor those that died in our nation's service and for our freedoms? Staying at home opens up so many options but with little kids we'll start small.
Fire Up the Grill
It's the unofficial start of summer after all! While we grill year round, nothing says Memorial Day like a delicious grilled dinner! I'm talking hot dogs, hamburgers, potato salad, chips and corn on the cob! I headed to Giant to pick up some necessities we needed for the weekend.
I wanted to find summertime staples to kick off the holiday weekend right and the Giant circular did not fail me! The front page of the circular this week features products perfect for Memorial Day: Heinz Ketchup, Whole Watermelon and Corn on the Cob not to mention great grilling items like steaks, chicken and hot dogs.
Using my Giant Bonus Card plus a coupon from the weekly circular, I was able to get several great deals. The first was a bottle of Heinz ketchup for $1.77. I'm pretty sure we go through a vat of ketchup each summer, so purchasing this deal was a no-brainer. Another fabulous find? A HUGE seedless watermelon for just $3.88. A perfect snack for the boys before dinner.
And seeing the pallet of corn on the cob ready for the shucking just screams summertime to me!
We're also going to have a fun dessert of S'mores. The boys enjoyed making these last summer and it was a fun way to spend the evening together. I like to have a back up plan just in case the weather doesn't cooperate and we are unable to use the fire pit, so I grabbed some Klondike bars just in case.
You can see more of my shopping trip by visiting my Google + album.
Memorial Day Parade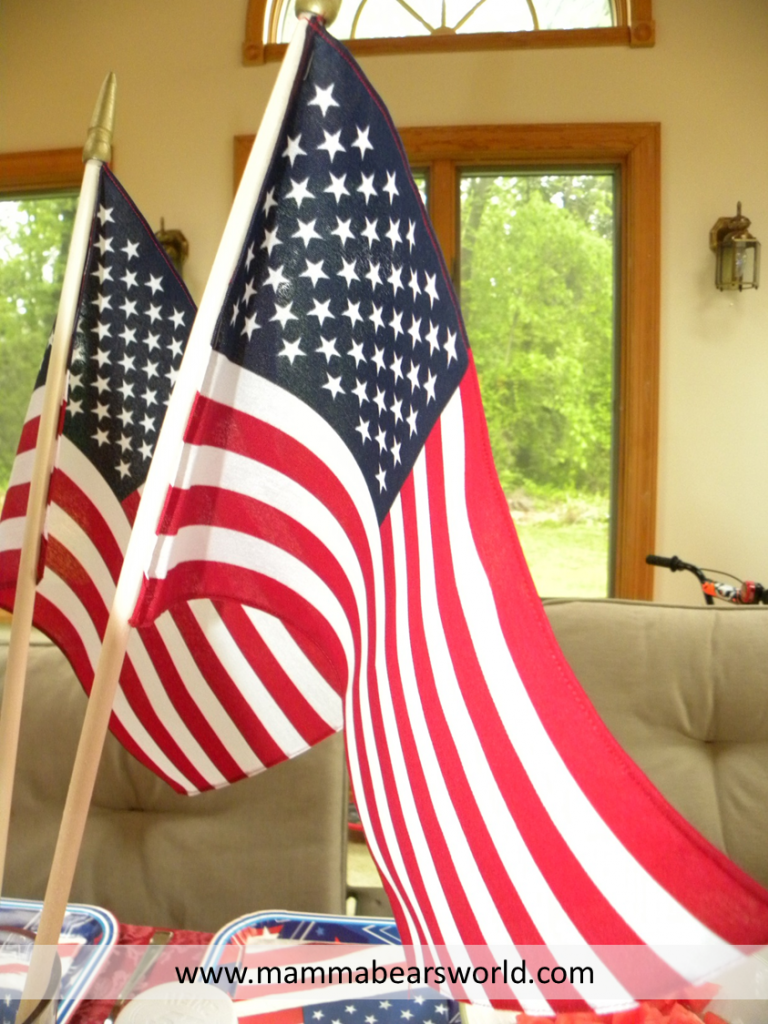 Like many, our town has a local Memorial Day parade. We pass our town's VFW often and the boys love that they have a tank on the lawn (yes, a real tank). This year's parade is expected to include over 60 floats, bands, representations of military units, antique cars, horses, bike brigades, and fire engines. Sounds like something my boys would enjoy watching!  Plus, I don't recall going to a Memorial Day parade before, so this will be a first for me as well!
Decorate the House
The boys love that our neighbor puts flags out in his garden all summer long. It's certainly a nice touch and a great way to celebrate Memorial Day but showing pride for our country. While at Giant, I found flags perfect for our holiday weekend. I plan on placing them in a glass vase as a centerpiece and after we have our dinner I'll move them to the flowerbeds in the front of our house.
I also grabbed some festive paper plates and napkins so we can have a "fancy" dinner. The boys seem to think that if we are using paper plates it is a more special dinner.
My little patriot already found the flags for the flowerbeds, and proceeded to sing us the Pledge Allegiance which he just learned in preschool this month while waving the flag. He got hung up twice, but he did pretty darn well remembering the entire pledge!
This Memorial Day, we're opting for a "staycation" to spend some quality time together AND save some money as well as our sanity! How are you spending your holiday weekend?
For more information about Giant Food Stores, check out Giant's Facebook page!
* Disclosure: I am a member of the Collective Bias®  Social Fabric® Community.  This shop has been compensated as part of a social shopper insights study for Collective Bias and their client. #cbias