As a Nuby Mommy Blogger, I received this product for review.
Potty training for 3 year old Bbear has been trying to say the least. His 3rd birthday was in late January, and about a week before that happy day he seemed interested (finally) in using the toilet. He loved the idea of a potty seat on the big toilet. We had great success for about a month and we were slowly trying to encourage him to do #2 there rather than in his pull ups. I'm really ready to have two kids in undies and only one in diapers!
It's been three long, long months and while Bbear seems to enjoy standing to pee, he has no interest and possibly a fear of using the toilet for #2′s. So, I decided we'd switch gears and try out an actual potty seat to hopefully get things moving – no pun intented. The folks at Nuby have a cute little potty seat that I hope will help.
What I like about this potty seat is that it's so easy to use. There is a removable that the child sits upon to do their business. I was a little apprehensive about taking that basin out after said business was in the pot, but it comes off without any jarring and nothing spilled. It is really easy to empty and easy to clean. One quick flip and the contents were in the toilet and flushed away. Just wipe down and ready to use again. I also leave a little bit of water in there for when I think #2′s are on the way (thanks to my mom for the tip) so that it is easier for them to slide out.
I put the potty seat in our powder room while the boys were asleep. When Bbear came down that morning he was so excited he took a toy in to the room and sat down on it. I was happy to see that his 3 year old bottom fit nicely on the potty seat, which was a concern when I first saw it – it looks so little!
He was very excited to have his own little seat.
And has quite the encouragement from his big brother – I'm fine with that if it helps us move past his daily-#2-in-his-undies stage!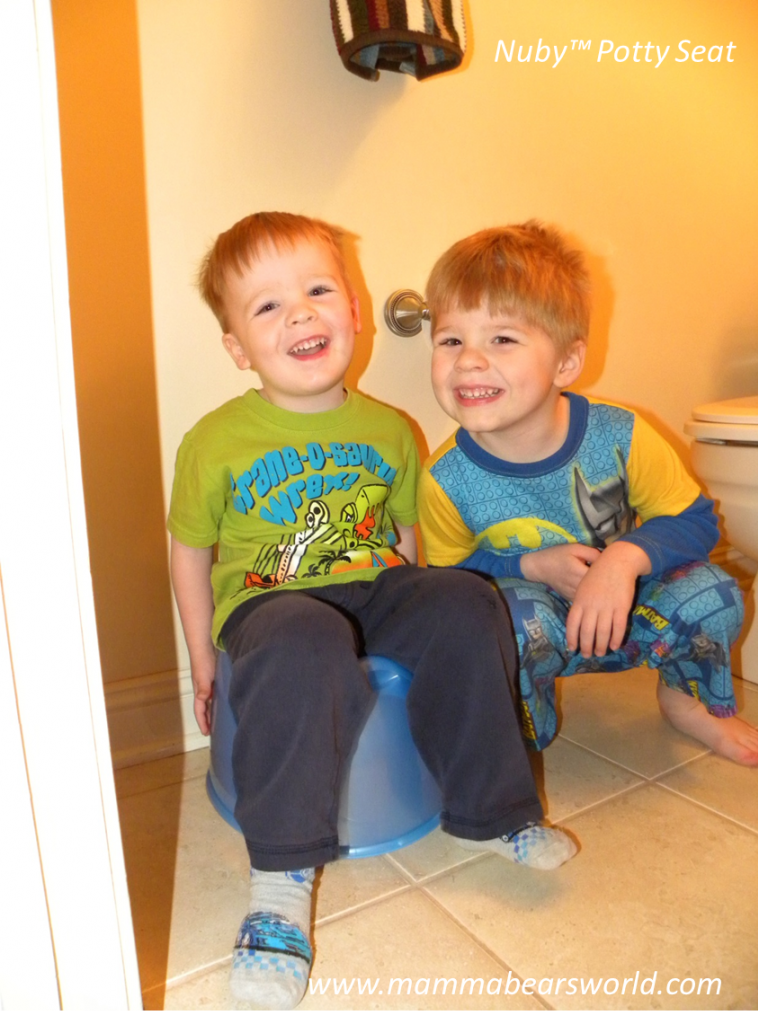 So far, Bbear has taken his new Nuby potty seat mobile. I'm so appreciative of the non-skid base since he is the one moving it from room to room. I guess he likes a view for his "office" Honestly, I don't mind if he takes this seat to the living room, kitchen or even outside if it means I have him doing all of his business in the big toilet or the little potty seat!
About Nuby
At Nuby™ we strive towards making the lives of parents and children easy, simple and fun. The highest quality standards, global trends and continual product development help us bring parents everything they need for their baby's development. Our products are inspired by nature and offer the best, safest and most simple choices for you and your baby.
Where to Buy
You can find the Nuby Potty Seat at: www.BuyBabyDirect.com
Stay Connected
Check out Nuby's Facebook page. They have great product information as well as contests! You can also connect with they on Pinterest and Twitter!
Looking for more posts on potty training? I apparently have a lot to say:
*Disclosure: I am a Nuby Mommy Blogger and as such have received this product in exchange for this review. All opinions are my own.